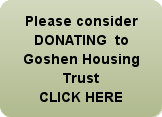 Learn about the importance of dealing with housing issues in our town and keep up to date with our plans, here

2018 Housing Data for Goshen is Now Available

The Partnership for Strong Communities has released updated housing information about Goshen.

Goshen Plan of Conservation and Development Available

The plan was developed by the town through workshops with the community.  It recognizes grater diversity in housing as the #2 priority for our Town.

Housing: A Look in the Mirror

The existing stock of housing is a major factor in shaping a community.

April 2019 Goshen Housing News

May 2019 Goshen Housing News

Economic Impact of Affordable Housing

See how investment in affordable housing pays off for a community.​

The Goshen Housing Trust does NOT have ANY housing units available at this time.  We are working on our first project and MAY have units available in the second half of 2020.

For information on affordable housing in Litchfield County see Northwest Connecticut Housing Council website.

Q1 2020 Goshen Housing News