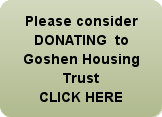 Goshen Village Marketplace is now renting!

Studios, 1 Bedroom, and 2 bedroom units

Goshen Housing Trust, Inc. is pleased to say that we have purchased Goshen Village Marketplace at 59 Torrington Road.  We have big plans for improving the site as a place to live and to shop.

There are 18 residential rental apartments ranging in size from Studios to 1 bedroom to 2 bedroom units.

We are in the process of renovating the units.  Over the next year and a half or so, we will be updating all of the units, improving their energy efficiency and appearance.  These renovations will be done in stages.  As units become vacant we will renovate before renting out to a new resident.  There will also be work done on the exterior of the building and the parking areas.

If you are interested in exploring whether living at Goshen Village Marketplace is right for your household, the best thing to do is to complete an application.  You can download an application package by clicking on the button below.

These units are all subject to maximum income limits. To rent here, your household income must be 80% of AMI for Goshen or in some cases less.   And, there are other qualifications that you must meet.

A Waiting List of interested parties will be kept and used as units become available.

The property is managed by our partner, Connecticut Real Estate Management, LLC, who brings their professionalism and expertise to making Goshen Village Marketplace your home.

For inquiries about availability or to get on the waiting list call:  at 203-699-9335 Ext. 310.  Leave a message if you get voice mail and someone will call you back.